In August, the Canada and Bermuda Territory welcomes Colonels John and Lani Chamness as chief secretary and territorial secretary for women's ministries. In this interview with Salvationist staff writer Abbigail Oliver, Colonels Chamness share their approach to ministry and the inspiration they bring with them into their new appointments.
Can you tell me about your call to officership?
Colonel Lani Chamness: I was born and raised in the Army. My parents were officers who came from the Philippines, and they served the majority of their officership in Hawaii, where I was born. I came to the Lord through one of The Salvation Army's summer camps, called Camp Homelani, right on the beach. Though I was raised in a Christian home, it was at camp that I truly learned about the Lord and received him into my heart.
I think a lot of officer children are asked if they are going to become an officer, too, and my answer was always no. But in my early 20s, I had a life and death experience, and in that I felt God's presence. I realized that I wanted to spend the rest of my life serving him wherever he wanted me to go.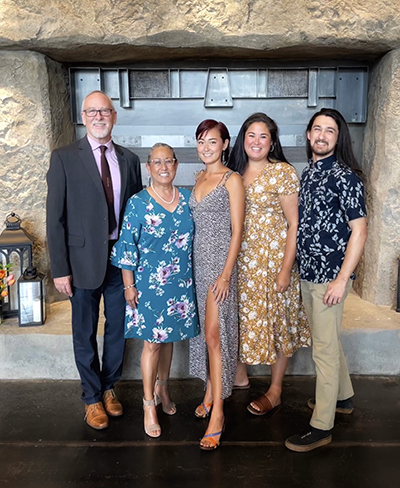 Colonel John Chamness: I'm a first-generation Salvationist. My dad and grandfather were both Presbyterian pastors, but like so many young people, I wandered from the Lord and from the church. After graduating college, I went back to Seattle to live with my brother and attended a Presbyterian church with him. On a Wednesday night, at a Bible study, I got saved. It was a beautiful experience, and I still remember it vividly.
At the same time, I became friends with a co-worker who attended the local Salvation Army. She invited me to come to church with her and when she asked if I knew about The Salvation Army, I lied and told her, "Of course." But I had no clue. When I walked in the doors of Seattle Temple, there was a band and songster brigade, and everybody was in uniform. I thought, What did I get myself into?
But I saw something different at the Army than I saw at the Presbyterian church. I felt that as a new Christian, God had called me to do more than just go to church—he had called me to be the church. And that's what I saw in the Army.
At first, I didn't want to go to training college. After six months, I was enrolled as a soldier. I didn't even have a uniform at that point; I was enrolled in my suit. But a couple months later, through several experiences and Bible studies, I knew that God was calling me to ministry. I went to my corps officers and said, "I don't know what's going on. But I think I'm supposed to be an officer."
How did you two meet?
LC: We both went to the College for Officer Training at Crestmont in California. I went in satisfied and determined to serve as a single officer. I wasn't looking for anyone. But God put us together. We are session-mates in the Ambassadors for Christ Session. And we have lived a life fulfilled, serving God, serving one another and serving others.
JC: We were sent out as single officers. Our first appointments were as assistant officers—Lani was sent to the Ka'uluwela Mission Corps and I was sent to the Leeward Corps, which are both on O'ahu, Hawaii. We spent 19 years of our officership in Hawaii. We were married and had our three children there.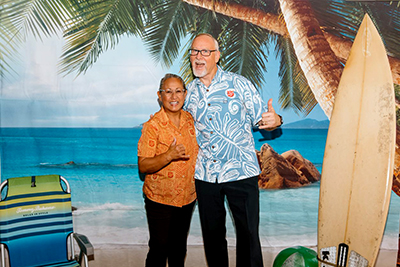 Since then, what has been your approach to ministry as a couple?
JC: Do whatever is needed. I look to the Scripture that says, "My life is not my own" (Jeremiah 10:23), and this idea that it is no longer I who lives but Christ that lives in me (see Galatians 2:20). My purpose and role are to serve people, love people and do the best that I can through The Salvation Army.
LC: I think about John 15, which says that Jesus is the vine and the Father is the gardener, and that we cannot bear fruit alone. We need him to bear kingdom fruit. In ministry, wherever God places us, we are being grafted into that family, that place, that community. Now, we are grafted into the Canada and Bermuda Territory. Our purpose is to work together and serve together, to be grafted into the vine and to bear fruit. No matter what season it is, we're there to grow together.
You played a key role in developing the Salvation Army Kroc Center in Coeur d'Alene, Idaho. Can you tell us about this centre and how it reflects innovation in the Army?
JC: The Kroc Center had three main focuses: education, recreation and the arts. And for The Salvation Army, that also meant the church and spiritual ministry. The lobby had a café, fireplace and tables, and on Wednesdays there would be a Bible study in the café. There were pastors and retired officers who met with congregants, community members and seniors who all came together in one place.
It wasn't just a recreational centre for exercising or learning how to swim. It was about encountering people, developing relationships and introducing them to Christ. We discovered that we didn't have to go to the community; the community was coming to us.
We received a lot of criticism—it was a different approach to church—but we also witnessed life transformation. We were seeing more people getting saved in our fitness centre than anywhere else. The purpose of the Kroc Center was to encourage, equip and engage, and that involved encouraging people into a relationship with Christ.
LC: When the church opened in the Kroc Center, there was a discussion around if we should open the fitness centre during the service. We said the whole place should be open all the time, even during church. We had a TV screen playing the service, so that even if people were on the treadmill, they could connect to the sermon. For us, that was one way to be innovative and to draw people into our time of worship, hopefully drawing them into our church and a relationship with God.
Most recently, you've been serving as divisional commander and divisional director of women's ministries in the Southern California Division. What have you learned as leaders of such a large, diverse division?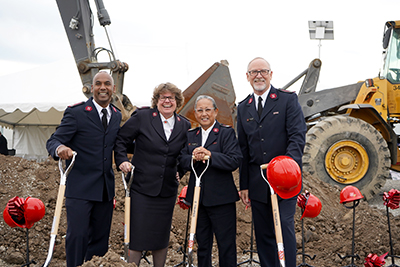 JC: Five years ago, we were asked to come lead the Southern California Division. At that point there were two divisions, and our role was to help merge them into one. We spent that first year trying to understand what the needs were, the challenges and the issues involved with the merger. For the first month, we visited every corps and program in the division. It was important for us to get out and hear from the corps officers and program directors about what was happening in their locale and how we could support them.
There was a lot of work to be done, a lot of trials and mistakes. We had no history with Southern California, but we came in and we listened, learned and worked together. We spent time with people and tried to understand as best we could. We reached a point where people began to see the power of a unified division and what we can do together as a Salvation Army.
How do you feel about taking up your new appointments here in the Canada and Bermuda Territory?
LC: We're excited. We're looking forward to this.
JC: We're feeling overwhelmed. We're feeling scared. We're feeling privileged. I grew up as a farm boy with no connection to The Salvation Army, and I never imagined my life being so rich and full.
We continue to hear about the incredible ministries in Canada and Bermuda. We've got good friends on both coasts and we're excited to see them again, and to learn from what The Salvation Army is doing here.
This year, the Canada and Bermuda Territory has an intentional focus on inspiring Salvationists for mission, a goal that was exemplified by our recent INSPIRE Conference and Congress. What does it mean to you to be "inspired for mission" and what inspiration do you bring with you into your new appointments?
JC: God called The Salvation Army to be a ministry of compassion and transformation. But as Salvationists, we can become so consumed with the work we do that we forget the beautiful opportunities that are before us.
The Salvation Army is an incredible force to be reckoned with. If we can see past the business that sometimes weighs us down and burdens us, we can see the possibilities and potential of our ministry.
We've got to stop holding it in. We've got to get out there and re-awaken this passion for ministry that God has called us to. Stop worrying about the things that don't matter, and start worrying about the things that do—what God has called us to—to save the world.
I think we need to start giving people opportunities. We need to say yes more. God has provided this plethora of opportunities for us in The Salvation Army. Let's stop saying "This is what The Salvation Army is." Instead, let's give our people the opportunity to really embrace whatever ministry God calls them to. Do whatever you need to do to win souls for Christ.
LC: Our primary calling is not to an organization, a rank or to the colour of our epaulettes—our primary calling is to know Christ, to know the Father and to have a vibrant, intimate relationship with him above all things. From that, we will learn what his desire and purpose is for our lives. That is my word of encouragement to others: know him first and be known as his.