When six tornadoes ripped through the Ottawa-Gatineau region on Friday, September 21, the devastation was unprecedented. Hundreds of homes damaged, thousands without power and two cities—two provinces—reeling.
Though these events were unexpected, The Salvation Army was ready, sending out its first emergency disaster services (EDS) team within hours of the tornadoes and, over the following days, assisting thousands of people who were affected by the storm.
"It's Very Bad"
The strongest of the tornadoes, an EF3 with winds reaching 265 kilometres per hour, swept through the community of Dunrobin in Ottawa and the Mont-Bleu neighbourhood in Gatineau.
In the immediate aftermath, the Army sent a canteen truck to the scene in Dunrobin where volunteers and first responders were hard at work, as well as two reception centres in Dunrobin and the east end of Ottawa.
As the weekend went on, Salvationists from the local corps joined the Army's disaster response.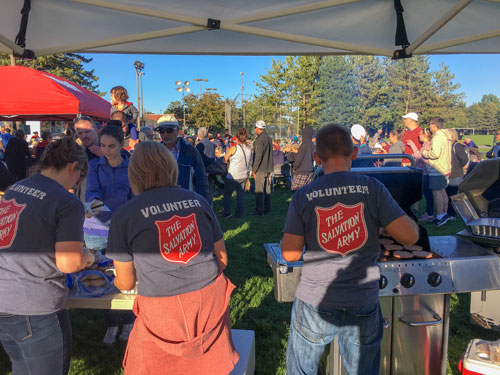 "Ottawa Citadel and Barrhaven Church stepped up and provided support within their own communities without being asked to do it," notes Perron Goodyear, territorial director of EDS. "They saw a need and started doing what needed to be done."
Ottawa Citadel expanded their planned Rally Day event to ensure that community members would have meals and hydration, while Barrhaven Church provided food and drinks, as well as emotional and spiritual care, at Larkin Park in south Ottawa on Sunday afternoon.
The meal in the park attracted many local residents, including Ken [last name withheld]. "We haven't been able to cook so when we heard hot meals were being served, we decided to come down here to the park," he said. "The Salvation Army is terrific; whenever you hear about a disaster, they always come out and help."
"In my neighbourhood they are self-organizing to help each other out with the damage, but I think The Salvation Army bringing out the food truck since we can't cook anything is a nice gesture," said C.K. Wong, another area resident who came to Larkin Park. "It's very bad. About one quarter of the houses lost shingles on their roof and you can see the plywood. A lot of the 30- to 40-year-old trees have been uprooted."
In addition to these events and assistance provided by the Ottawa Booth Centre and Bethany Hope Centre, EDS team members went door to door in various areas of Ottawa, checking in with people and offering support.
"This provided opportunities to have one-on-one conversations with families," says Goodyear. "In some cases, these were families who didn't have to leave their homes, but didn't have hydro or supports. So checking in with them, multiple times, and making sure that they had what they needed—I think that had a huge impact."
Finding Shelter
In Gatineau, The Salvation Army's response began early Saturday morning in two locations. The first was a distribution centre, housed in an old Sears store, where the Army was tasked with overseeing the management of donations, including non-perishable food items and clothing, working in conjunction with other organizations.
"We sorted and distributed donations, and oversaw the whole process," notes Goodyear. More than 1,000 people received assistance through this distribution centre.
The second location was an emergency shelter at the Père-Arthur Guertin Community Centre, where The Salvation Army was responsible for food services.
In the days following the tornado, Major Lauren Effer, divisional director of women's ministries, Quebec Division, spoke to many local residents at the shelter.
"So many people were numb," Major Effer notes. "Everybody was saying, 'I can't believe this happened. I thought it was safe here.'
"One woman I spoke to came home to her apartment after the tornado hit and her bathroom ceiling had collapsed," Major Effer shares. "There was water in the bedrooms and her windows were all blown out. She was stunned."
Drawing on EDS personnel from around the Quebec Division, as well as the Ontario Great Lakes Division, the Army's response in Gatineau was both larger and longer than its response in Ottawa.
"The same EF3 tornado hit both areas, but in Ottawa it was an affluent neighbourhood, while in Gatineau, it was a lower-income area," explains Goodyear. "As a result, few people in Ottawa had to stay in a shelter. In Gatineau, there were significant numbers because there were 600 people displaced. Several apartment buildings were damaged, and there wasn't anywhere for them to go."
As The Salvation Army concludes its tornado response, Goodyear says he appreciates all the volunteers who took part, and encourages all Salvationists to consider EDS training. "If you want to be able to help if something happens in your area or in another community, get the training now—don't wait for something to happen."
With reporting by Caroline Franks.
---
By the Numbers
Ottawa
11 days (September 21-October 1)
3,300 meals served
125 emotional and spiritual care connections while delivering packed lunches and water to residents in the hardest hit neighbourhood
2 canteens deployed (1 stationary and 1 roving)
2 reception centres cared for with snacks and hydration
84 families received emergency food from community and family services at the Booth Centre

Gatineau
17 days (September 22-October 8)
7,588 meals served
6,400 cups of coffee supplied
128 emotional and spiritual care connections
2 canteens deployed
350 families served at the distribution centre (approximately 1,042 individuals)
1,602 hours given by volunteers, employees and officers