(Above) The North Street Worship Team leads a lively worship service on Wednesday morning
For more photos, see our photo album on Facebook.
The third day of INSPIRE began with INSPIRE Worship, a vibrant and uplifting service filled with lively music led by North Street Worship Team from North Street Citadel in Hamilton, Bermuda. Worship began with soulful renditions of My Hope Is Built on Nothing Less and Lord, We Give You the Glory, and the congregation joined in to sing If You're Happy and You Know It, Say Amen.
Colonel Evie Diaz, chief secretary, read from Psalm 25 before welcoming Rev. Dr. Das Sydney, president of the Canadian Council of Churches. "There is no faith that employs as much respect in Canada and Bermuda, and around the world, as The Salvation Army," he said, noting that in all places and situations, "The Salvation Army is there. You are there."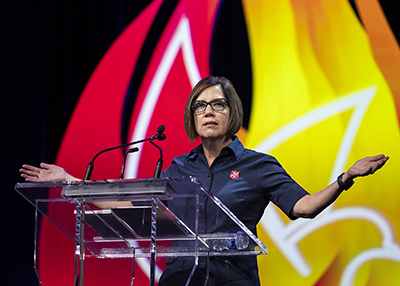 Commissioner Tracey Tidd, territorial president of women's ministries, thanked delegates for their kindness and support through Commissioner Floyd Tidd's ongoing health journey. She then shared a message based on Romans 5:15, focusing on the theme of "Receiving Hope Today," and encouraged the congregation to pause and look inward on their own hope reserves.
"We are a people of hope, and we are committed to sharing that hope," she began. "We are The Salvation Army, Giving Hope Today, but that is draining. Yet day after day, you show up to meet people where they are. So, allow yourself a moment this morning to step back and take time to receive hope where you need it most. Our hope comes from Jesus."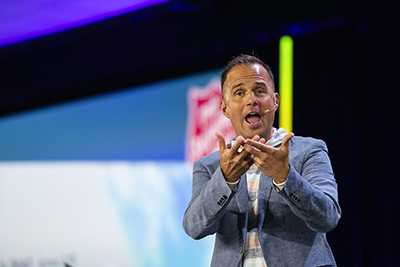 In the afternoon, delegates gathered to hear from Jeff Lockyer, lead pastor at Southridge Community Church in St. Catharines, Ont., and author of Finding Our Way: Reclaiming the First-Century Church in the Twenty-First Century.
"I believe, more than ever, seeing is believing. People are looking to see the reality and the authenticity of the love of Christ for themselves," he said. "I also believe there is no church in Canada better positioned to address that opportunity than The Salvation Army. In so many places and in so many ways, you have already operationalized that capacity of justice in effective ways. You have decades of experience in helping others do that. You bring the love of Christ to life."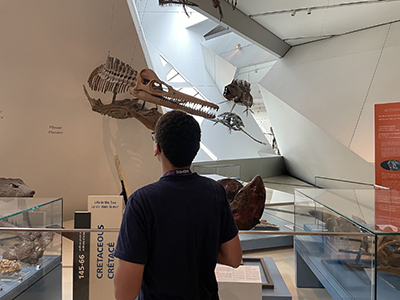 Workshops continued throughout the day on a variety of topics, including poverty reduction strategy, discerning God's voice, and trauma and caring to help equip attendees for ministry and mission across the territory.
For children attending INSPIRE, the lower level of the Westin Harbour Castle Conference Centre is serving as a hub for youth programming. Age-appropriate activities are scheduled into each day of the week, including dedicated and ministry-focused Bible time, circle time and healthy snacks. Spy-themed activities such as secret-agent mazes and spy story times are helping kids gear up for the weekend's CoMission I.N.G. event at Massey Hall. Day trips are also taking place, including to the Toronto Zoo, Canada's Wonderland, the Royal Ontario Museum and Ripley's Aquarium.