Money & Mission
Welcome to the information and archival site for the Finance Department's "Money & Mission" publication. Below you'll find details on the subscription process, and links to the various PDF documents that have been distributed.
In an effort to enhance information flow and the lines of communication regarding key finance and accounting topics, the Territorial Finance Department offers an electronic publication subscription service, available to any interested Salvation Army personnel (officer, employee or volunteer).
These publications are distributed to subscribers on a periodic basis, and will be a means of communicating the status and progress of various projects. They will also facilitate open discussion forums on relevant issues that develop. At all times, subscribers are encouraged to submit feedback in the form of questions or suggested topics.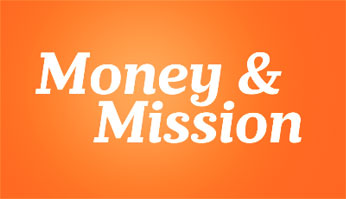 Subscribe to the "Money & Mission"
Money & Mission Publication
Click on the appropriate link below to view the bulletin of your choice:
Volume IX Issues
Click here for the October 3, 2018 issue (Issue #1) - printable version here
Click here for the October 17, 2018 issue (Issue #2) - printable version here
Click here for the November 7, 2018 issue (Issue #3) - printable version here
Click here for the November 21, 2018 issue (Issue #4) - printable version here
Click here for the December 5, 2018 issue (Issue #5) - printable version here
Click here for the December 19, 2018 issue (Issue #6) - printable version here
Click here for the January 2, 2019 issue (Issue #7) - printable version here