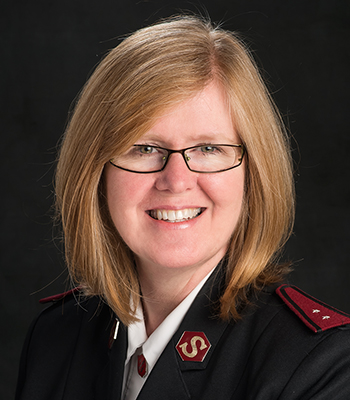 Captain Barb Stanley, MA– Director of Pastoral Services Pastoral Services Officer- CFOT, Alberta & Northern Territories, Bermuda
Contact: barb.stanley@salvationarmy.ca
Tell us about yourself
I have spent almost all of my 14 years of officer-ship in this department and I wouldn't have it any other way. I want to be a person who expresses deep kindness and empathy to the officers in moments where there is concern, difficulty, heartache or crisis. I became a counsellor 30 years ago because I wanted to walk with people in a meaningful way, and to be able to offer helpful tools and guidance to navigate that concern or crisis. I also get to live out my vocation of teaching/equipping in this unique role within the organization.
Why are you passionate about the work that Pastoral Services does?
I believe that the role of the officer in this organization is unique. I think the officers should expect to be supported, encouraged, affirmed and prayed for by as many people as possible throughout the organization. This department is one of those necessary spaces. I also believe that Pastoral Services should be able to offer expert advice in the areas of emotional, mental, spiritual and physical wellness. We are continuing to develop the team and planning ahead to ensure that the next decade will increase our capacity to speak to these areas of our lives. We are integrated beings. We cannot separate our physical bodies from our emotional reality. And we cannot separate our spiritual bodies from our mental reality.
What is your hope for Pastoral Services ministry in the Canada & Bermuda Territory?
Our tag line for Pastoral Services is 'Helping officers create space to grow and to flourish'. You'll also hear me say "meaningfulness makes us well". We want to support officers in their journey of wellness and growth. This only happens when we have time to develop safe and trusting relationships with officers. This takes time and intention. I hope that our department continues to be a safe place for officers and an encouraging one, where they feel heard and attended to.
Tell us about yourself
I have been a Salvation Army officer for 35 years, and the past 11 of those have been in Pastoral Services. Before that I was a Corps officer in Newfoundland, Nova Scotia and Ontario. I also served as the university chaplain at Memorial University of Newfoundland for 7 years, and 3 years as manager of social work in a homeless shelter. My background is in clinical social work and I am currently completing my dissertation for my Doctor of Ministry degree in Counselling and Mental Health. The spiritual health of Officer's kids is my research focus at Providence Theological Seminary.

Mental health has always been hugely important in my ministry. I have worked with The Salvation Army's Critical Incident Stress Management Team as a mental health professional since 2006, and I've also worked as a field instructor to social work students studying at MUN and working for The Salvation Army's social services centres as their placement. And just recently, I have agreed to be a chaplain for the Territorial Modern Slavery and Human Trafficking Response Team.

I have been married to my husband Lloyd since 1982 (you do the math!) and together we have four grown daughters who with their husbands have blessed us with three grandsons and three granddaughters. We are also blessed to have had the experience of foster parenting three little ones (in our fifties) who also are nana and papa's treasures.
Why are you passionate about the work that Pastoral Services does?
At times when I have been part of hiring staff, I have often used the phrase, "You are the best resource you bring to the job." As Salvation Army officers I believe this to be true as well, and it is so important that we are responsible with that resource in ministry – caring for the temple. I am grateful to walk alongside officer colleagues in helping them navigate wholistic wellness and making the connection between spiritual, emotional, relational, physical, and mental wellness. I understand as well that the very heart of compassion that calls us to ministry can become a workplace hazard. It can leave us sometimes weary, tired and depleted, and that is why I am invested in the three-fold mandate of our Department, 'Prevention, Early Intervention, Responsible Follow-Up.' I see my role sometimes as that of Aaron and Hur in holding up the arms of Moses in the battle (Exodus 17:12-14).
What is your hope for Pastoral Services ministry in the Canada & Bermuda Territory?
In addition to all the wonderful things that the Pastoral Services Department are doing to support the officers of this Territory, it is my hope that we will increase our intentionality to support officer's kids (OK's) to that same level of wholistic wellness, especially during the journey of appointment changes and the trauma that those changes can mean for some OK's. I would hope that Pastoral Services officers in all regions would be attuned to the needs of the OK's in their areas. I hope that we can establish a network of support (perhaps through social media) to encourage OK's to encourage one another and nurture their wholistic wellness.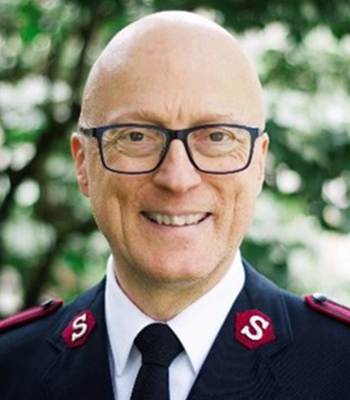 Tell us about yourself
I am one of two Pastoral Services Officers serving the western region of the Territory which includes both BC and Prairie Divisions. I have undergraduate degrees in both theology and psychology. I am a registered clinical counsellor, holding a master's degree in counselling psychology from Trinity Western University. As a trauma-informed therapist I have taken training in EMDR, a therapy proven effective in reducing the chronic symptoms which follow trauma. In addition to my current role, I do counselling one day a week at The Salvation Army Gateway of Hope in Langley. After serving as a pastor/officer in churches/corps for 26 years and spiritual life development for 3 years I was asked in 2018 to join the Pastoral Services department. Finding my niche has resulted in a deep sense of fulfillment in my work.
Why are you passionate about the work that Pastoral Services does?
In hindsight I now see the trajectory of God's preparation for my place in pastoral services. Soon after I joined the department an astute colleague said, "Your training will help you to normalize therapy for your colleagues." Those wise words have proven to be so true. I have been and continue to be the recipient of caring burden bearers in my life. And now I get to bear burdens with fellow officer's who may be in crisis, feeling vulnerable and overwhelmed. I offer them a spiritually sensitive listening ear, quality clinical interventions and a willingness to collaborate with them if they desire in developing a proactive plan of spiritual, emotional and physical self-care. Bear one another's burdens, and so fulfill the law of Christ. Galatians 6:2 (ESV).
What is your hope for Pastoral Services ministry in the Canada & Bermuda Territory?
I'm thankful that Pastoral Services work has evolved over the years. For officer's to be resilient in the face of ongoing challenges I believe we need to continue to have a solid pastoral services presence in the territory. Having access to mental health resources and a focus on all levels of self-care are essential to sustaining the well-being of our leaders.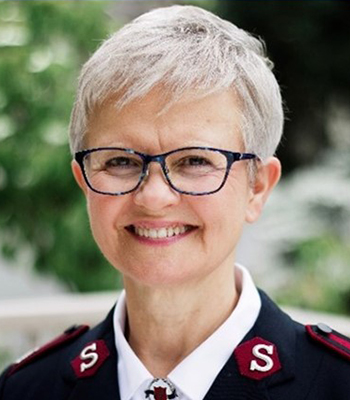 Tell us about yourself
I have been an officer for 32 years with 26 of those being in corps work. In those years, Pastoral Services have assisted me and my family. I remember getting regular calls from my pastoral services officer Captain Barb Stanley and appreciating her listening ear, compassionate care, and confidentiality. Along with my husband we have had the opportunity over the years to come alongside congregation members and officers who have been wounded personally and in ministry, so pastoral care has been a fulfilling and important part of our ministry. It was a Holy Spirit nudge that brought us to Pastoral Services in 2018. We had been invited to consider this role two times before we finally "got it!" It's been a privilege and an honour to work with such a great team and to assist fellow colleagues.
Why are you passionate about the work that Pastoral Services does?
We are advocates for self-care in body, mind, and spirit. We are a bridge in helping active officers and their children find therapeutic help when life gets overwhelming. We are a confidential listening ear, and a voice of encouragement. We provide self-care resources for officers who are looking for help for themselves and congregation members. I believe we are the pulse meter of how officers are feeling. There is nothing so satisfying as when you can help a fellow colleague, or a member of their family come to a better space of wholeness and healing.
What is your hope for Pastoral Services ministry in the Canada & Bermuda Territory?
My hope would be that self-care spiritually, emotionally, and physically would be seen as a priority by all officers in our territory. God has called me as a Salvation Army officer to minister to fellow officers. I understand and have experienced the demands and heaviness of ministry and have realized, sometimes the hard way, the importance of making time for God, for Sabbath rest, for family, for ministry and fun. It's a fine and necessary balancing act that will help us all to finish the race well.
Major Beth Pearo – Territorial Pastoral Services Officer – Ontario Division & Certified Spiritual Director
Contact: beth.pearo@salvationarmy.ca
Tell us about yourself
I'm the beloved child of God, called into ministry 30 years ago, seeking to live out that calling. I've spent the majority of my ministry in corps officership but felt a very specific calling to Pastoral Services six years ago. This calling came as a result of my experience on the front line of ministry, knowing the unique challenges of officership and the need for pastoral support to come alongside.
Why are you passionate about the work that Pastoral Services does?
From personal experience, I know the value of having someone coming alongside to offer Pastoral support. In addition, I am passionate about the opportunity this appointment has given me to serve as a certified Spiritual Director to officers. Through this ministry, I have also come to discover the richness of the Enneagram tool and its transformative power and influence in the spiritual journey. I am passionate about sharing what I have learned from this personality assessment tool.
What is your hope for Pastoral Services ministry in the Canada & Bermuda Territory?
I hope that PS will continue to be a ministry that will support the physical, mental, emotional and spiritual well-being of the officers and their families. I would hope and pray that the ministry of Pastoral services will continue to be a safe place/space where people feel free to come and share their needs knowing it will be held in a place of confidence.
Major David Pearo, BTH, MTS, Q. Med – Pastoral Services Officer Ontario Division
Tell us about yourself
Both Beth & I have been part of the Pastoral Services team since 2015. It has been a journey of learning and sharing with officers about how to best support them, in times of crisis and times of need. It's a privilege to journey with people who trust and value the ministry you offer.
Why are you passionate about the work that Pastoral Services does?
I'm a believer in what this department has identified as our mandate: Prevention – Early Intervention - Responsible Follow Up - Creating a Culture of Spiritual Care. Through the ministry of Pastoral Services, every day we have the opportunity to walk alongside officers and help identify where we can best offer support.
What is your hope for Pastoral Services ministry in the Canada & Bermuda Territory?
My hope is that the ministry of Pastoral Services will allow us to continue to be people who engender trust and safety, so that officers feel confident they can turn to us for counsel and support for all the different challenges life can bring.