Over a hundred people met at Jackson's Point camp on Lake Simcoe in Ontario, Canada for the second annual Hispanic family camp from July 30 to August 3, 2012.  For many of the Spanish speaking delegates it was the first time experiencing a Christian camp, and the dynamics were powerful to see as God was at work. Not only did delegates find new life in Christ, but relationships between parents and children were restored. "This is God's triumph", said Auxiliary Captain Fabio Correa. " I was no camp director or preacher before, but the only thing I did was give my life to God, and now I watch him work."
There were two goals for the week; first for the participants to come to know Jesus, and secondly, to strengthen the family unit. This took place through participation in daily family events such as outdoor sports and aquatics, spiritual teaching and special entertainment. Teams competed in Hispanic olympics, working on developing their logo, their cheers and even their mascot.  A final celebration featured a mariachi band, folk dances and even fireworks. This festive atmosphere was meant to reflect the celebration in heaven when one sinner returns to Jesus, and at the Hispanic family camp 2012, there was much to celebrate.  Many chose to commit their lives to Jesus, and testified to how the Lord had changed them, some breaking into spontaneous song as they struggled to express how much Jesus meant to them.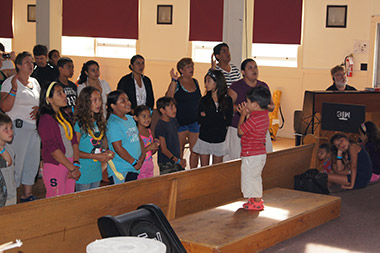 The theme of the week was "In the Potter's House" or "El Taller Vel  Alfarero" based on scripture passages from Isaiah 64 and Jeremiah 18: 1-6.  Using a potter's wheel,  Captain Angelica Correa illustrated how God shapes his creatures through his tender care, grieved  as much as the clay with things that mar the original design he had for us. The potter does not give up on his work, even when flawed.  No matter how the vessel is broken, it is not discarded.  It was explained how important it is for the clay to be centered in the potter's wheel in order for the work to be completed, just as our lives need to be centred in Christ.
Captain Fabio Correa through his spiritual teaching reminded campers that each is unique in God's eyes, made individually just as the potter works uniquely with the clay. The thorough knowledge that the potter has, knowing us better than we even know ourselves, enables him to mend skillfully the cracks that appear in the clay. Applying the right touch, he can heal the deepest wound that no other source on earth can.  When we come to the potter's house, God is there to welcome and restore us,  enabling  each person to become a noble and pleasing  vessel , fit for his use.
Another key element were the daily humorous sketches brought by  Luis Fernando  and Marjorie Ruiz, reflecting what every delegate might experience at camp .  The couple represented an everyday country family and their response to the day's teaching, showing  how God's Word helped them in the way they treated each other and answered God's call.  What was striking about their representation was that they themselves were new to the Salvation Army only one year  previously, and it was at Hispanic family camp in 2011 that they gave themselves to the Lord.  Their lives were changed over the course of the year in their relationship to God, as a couple, and in their family relationships as they were introduced to other newcomers to the country, and found extended family  in the fellowship of believers.    They returned this year wanting others to be blessed with the experience that they had. They were one of three couples who made a commitment to Christ last year, became integrated into the Yorkminster community as members of the church, and returned as leaders to Hispanic family camp this year.
Auxiliary Captains Fabio and Angelica Correa with the support of the leadership team have been engaged in discipleship with the attenders over the past year, assisting in the development of campers' spiritual lives by cell groups, midweek service, and bilingual translation of Sunday service as part of the Yorkminster Salvation Army congregation. Another key component that the captains emphasize is that the corps (church) is the place where life is celebrated in all its facets.   Food, fun, fellowship, education, and service are encouraged throughout the year.  The support of corps officers Majors Len and Heather Ballantine, both musically and with day to day encouragement, is essential to the Hispanic ministry being an integral part of the whole body of Christ at Yorkminster Citadel. The Correas and the Ballantines along with local leaders show mutual dedication to the task.  But as Captain Fabio is quick to assert.  " We could not have done this without God. We have seen  that everything to do with the ministry of this camp is a miracle, fashioned and molded by God."