(Above) Leaders from The Salvation Army in Canada and Bermuda attend the opening banquet of the 2017 Territorial Social Services Conference. From left, Lt-Col Sandra Rice, DC, Ont. CE Div; Commissioner Susan McMillan; Mjr Glenda Davis; Lt-Col Marsha-Jean Bowles; and Colonel Lee Graves, chief secretary (Photos: Giselle Randall)
At the 2017 Territorial Social Services Conference, held October 23-25 in Mississauga, Ont., more than 350 people from across the Canada and Bermuda Territory gathered for a time of education, networking and worship. The theme of the conference was "Motivate, Innovate, Integrate."
Guest speakers included Commissioner Susan McMillan, territorial commander, Colonel Geanette Seymour, former director of the International Social Justice Commission, Lt-Colonel Marsha-Jean Bowles, secretary for program, and Major Glenda Davis, social services secretary.
At the opening banquet on Monday evening, Major Davis welcomed delegates to the conference, acknowledging that it was taking place on the traditional territory of the Anishinaabe. "Today, this meeting place is still home to many Indigenous people from across Turtle Island, and we are grateful to have the opportunity to share together on this land," she said.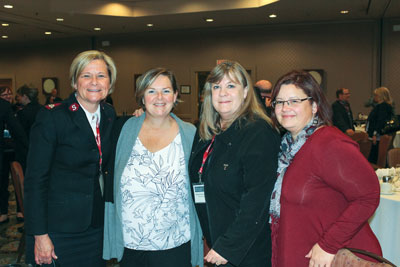 Following the meal, the music and gospel arts department led people in praise and worship, and then Commissioner McMillan spoke, reflecting on the purpose of The Salvation Army. She noted there are more than 170,000 charitable and non-profit organizations in Canada, and many offer similar programs or services. "So why do we exist?" she asked. "We exist because we believe we have something deeper to offer—something truly transforming." Commissioner McMillan challenged delegates to adopt an integrated mission approach in their communities. "To be a Salvation Army, we need to understand that our mission is to bring complete health—physical, mental, social and spiritual health—to every person our ministry touches."
Compelling Workshops
After morning devotions on Tuesday and Wednesday, delegates attended a wide variety of workshops, from managing finances and evaluating programs, to implementing new case management tools and preparing for an accreditation, to understanding the dynamics of exploitation and responding to the global refugee crisis.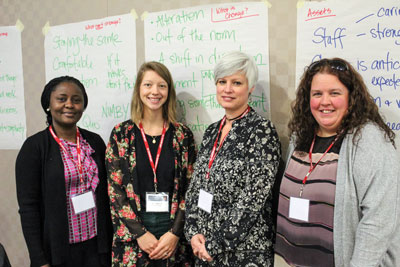 Christine Cha, community and family services program co-ordinator at Guelph Citadel, Ont., attended a session on Indigenous spirituality by Major Shari Russell, territorial Indigenous ministries consultant. "We have a lot of guests who have an Indigenous background, so I really want to be able to understand their perspective, to better serve them," she says. "When they're talking about their struggles, I feel like I'll have some better questions to help them walk through what they're experiencing."
In another session, Major Russell facilitated the KAIROS blanket exercise, an experiential learning activity in which participants act out the story of Canada, from the perspective of Indigenous peoples, demonstrating the impact of colonization in a powerful way.
"You feel that you are the one impacted," says Hua Zhang, business manager at the community and rehabilitation centre in Windsor, Ont. In the exercise, Zhang represented the children who went to residential schools and never returned home. "I felt terrible, abandoned. You can't merge into Western culture, and you can't go back to your family, your community. You're just isolated, for your whole life."
Dr. Marlene Brant Castellano, a member of the Mohawk Nation, professor emeritus at Trent University and recipient of the Order of Canada, presented workshops that encouraged those attending to consider how they are contributing to reconciliation between Indigenous and non-Indigenous people.
The conference was an opportunity for delegates to gain practical knowledge and skills to apply in their local context. Nancy Lemire, community ministries co-ordinator at Kootenay Valley Community Church in Cranbrook, B.C., attended a session on compassion fatigue. "I'm taking away tools for prevention," she says. "I experienced compassion fatigue a few years ago. It was ugly. I took some time off work, and feel quite healthy, but I don't want to go there again. I love what I do, and I want to keep doing it!"
It was also a place to wrestle with difficult issues, such as the role of harm reduction in addiction treatment. Major Judy Regamey, executive director of the addictions and residential centre in Edmonton, attended a panel discussion that addressed varying viewpoints. "What I appreciated most is the concept that harm reduction is not just supplying needles and drug paraphernalia. It's so much broader than that," she says. "It's also the way you approach relapse, or having a safe place to sleep at night. So it confirmed in my mind some of the things we're doing."
Hope and Transformation
Over lunch on Wednesday, Major Davis spoke about motivation, reminding those gathered of the significance of their work. "We are working together as one Army for something that's bigger than ourselves," she said. "We are part of the bigger picture of God's kingdom and his work in the world. We have purpose. When life has meaning, we have hope. And hope motivates."
After the closing banquet that evening, Lt-Colonel Bowles offered a final word, sharing some personal stories. "When Jesus shows up, there is transformation. Transformation comes through personal relationships," she said. "As you return to your area of ministry, to your family, to your colleagues, to your clients, I pray for you and for myself that we'll have many 'God moments,' many opportunities to offer life transformation to the people around us, that we'll be a part of this story that God is continuing, a story of redemption. We're part of that. We are called to greater things."
A jubilant concert by the Canadian Staff Songsters, led by Major Len Ballantine, brought the conference to a close.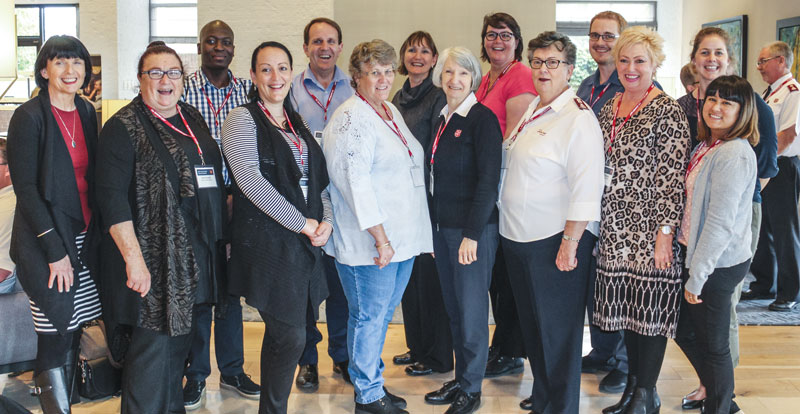 A team from Aged Care Plus in the Australia Eastern Territory participated in the conference as part of a study tour to Canada and the United States. At the pre-conference workshops on Monday, Sharon Callister, CEO, and Peter Bewert, executive manager, presented a master class on "Making Moments Matter," their model of care for people with dementia.
Colonel Geanette Seymour, chair of the board for Aged Care Plus, spoke at lunch on Tuesday of the model's person-centred approach. "We've intentionally moved away from a clinical model of engagement," she said. "It's all about relationship. It's no longer doing for, providing for, giving to. It's doing life with older Australian citizens. It's our responsibility to live with them in a way that is relational and allows them to find fulfilment."
After the conference, the team visited various Salvation Army care centres in New York and Vancouver.