Colonel Eleanor Shepherd has been appointed as the interim executive director of the
Ethics Centre
of the Canada and Bermuda Territory, effective October 1, 2021. She succeeds Dr. James Read, who will retire after serving since 1994 as the founder and executive director of The Salvation Army Ethics Centre.
Based in Winnipeg, the Ethics Centre was established to help Salvationists in the Canada and Bermuda Territory and around the world engage with complex ethical and moral issues of our day. The centre provides advice to senior leadership, consults with ministry units on a variety of important issues and produces positional statements to support the Army's stances on social issues.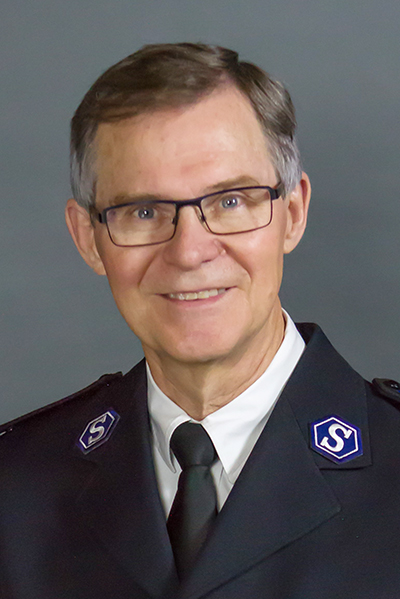 Colonel Edward Hill, chief secretary, notes, "Over the past 27 years, Dr. Read has provided distinguished leadership to the Ethics Centre and made an inestimable contribution to the work of The Salvation Army throughout the globe. We want to acknowledge him for the groundbreaking role he has played in the history of The Salvation Army in the field of ethics and issues of social justice. Although Jim will be greatly missed in this current role, we are confident that he will continue to be a source of inspiration and expertise on critical matters facing The Salvation Army."
Colonel Eleanor Shepherd has been deeply involved in the Ethics Centre through the years, both a member and chair of the Social Issues Committee. Colonel Shepherd is a retired Salvation Army officer who has served as a corps officer and in youth work, education and senior leadership positions in the Canada and Bermuda Territory and the France and Belgium Territory. She is a graduate in psychology from Concordia University in Montreal and did graduate studies in theology at Tyndale University in Toronto and certification as a prayer companion at the Ignatian Centre in Montreal. Since retirement, she worked as director of philanthropy for two Canadian Christian NGOs. She is a member of the board of InterVarsity Christian Fellowship (IVCF) and RSVP (Stonecroft). She and her husband, Colonel Glen Shepherd, are active in their home corps of Montreal Citadel.
"Colonel Eleanor Shepherd's dedication to the work of the Ethics Centre will ensure its continued vital ministry to both the territory and the resourcing of the international Salvation Army," says Colonel Hill.
For his part, Dr. James Read completed his doctoral studies in philosophy at UCLA, taught at public universities in Tennessee and Ohio, and eventually returned to Canada in 1982 to help establish Catherine Booth Bible College, now Booth University College. In 1994, he founded The Salvation Army Ethics Centre and, in 2008, he became a senior policy analyst for the newly formed International Social Justice Commission (ISJC). He also chairs the International Moral and Social Issues Council out of International Headquarters. These ministry profiles have given him the responsibility and opportunity to help Salvationists around the world think with conviction about critical moral and ethical issues. He is active at his home corps, Heritage Park Temple in Winnipeg, together with his wife, Laurie, and served for many years as corps sergeant-major.
"I am unspeakably proud to have been part of the creation of The Salvation Army Ethics Centre," notes Dr. Read. "In the past 27 years we have done good work. But that work is not completed. Indeed, the work of thinking and being and acting ethically is an ongoing challenge for every Christian. I am confident that the Ethics Centre will continue to help meet that challenge with its able staff under Colonel Eleanor Shepherd's leadership."
Colonel Shepherd notes, "The most important task will be to establish a team that will permit serious reflection on how best to move forward, honouring the excellent work that has been done by Dr. Read. This group, dependent upon the guidance of the Holy Spirit, will determine how the Ethics Centre can provide continuity of purpose in equipping Salvationists to express their faith in engaging with the social justice issues now and as we journey into an unknown future."
In addition to Dr. Read, the Ethics Centre staff consists of two ethics consultants, Dr. Aimee Patterson and Emily MacFarlane, as well as administrative co-ordinator Maddison Case. The vision is of "a collaborative team known for ethical expertise, engagement, discernment and moral courage, equipping The Salvation Army to stand boldly as a spiritual force with an acute social conscience."